The Chamber Choir of The Feliks Nowowiejski
Academy of Music in Bydgoszcz (Poland)
in concert
Feliks Nowowiejski – the great composer and patriot on the 70th anniversary of his death
Concerts in Nowy Jork (USA)
As we celebrate the Year of Feliks Nowowiejski, the Polish composer, conductor, and educator, the Chamber Choir of the Feliks Nowowiejski Academy of Music in Bydgoszcz is coming to New York to present the program "Feliks Nowowiejski: the Great Composer and Patriot on the 70th Anniversary of his Death," featuring sacred and secular works by Nowowiejski himself. The choir will perform at the Polish and Slavic Center, the Roman Catholic Church of the Epiphany, and The Church of St. Ignatius Loyola and also Saint Stanislaus Bishop and Martyr Roman Catholic Church.
The New York performances are presented in partnership with the Polish Cultural Institute New York, with the organizational support of the Consulate General of the Republic of Poland in New York.
The Feliks Nowowiejski Academy Chamber Choir 2016 U.S. tour is made possible by the financial support of the Senate of Republic of Poland – Polonia Office, Ministry of Culture and National Heritage, Institute of Music and Dance, Bydgoszcz City Council, and the Konsonans Foundation.
19TH AUGUST (FRIDAY)
6.00 pm Concert
Saint Stanislaus Bishop & Marty Roman Catholic Church
101 East 7th Street, New York, NY 10009
20 TH AUGUST (SATURDAY)
6.00pm Concert
Polish & Slavic Center
175 Kent St, 11222 Brooklyn, NY
21 TH AUGUST (SUNDAY)
1.15pm Concert
The Roman Catholic Church of the Epiphany
239 East 21st St, New York, NY 10010
19.30 Concert
St. Ignatius Loyola Parish
980 Park Avenue at 84th Street, New York, NY 10028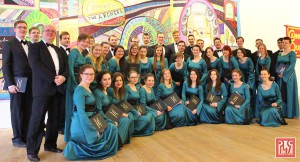 Organizations:
The Feliks Nowowiejski Academy of Music located in Bydgoszcz (Poland)
The Konsonans Foundation
Cofinancing:
Chancellery of the Senate of the Republic of Poland
The Ministry of Culture and National Heritage
The Institute of Music and Dance
The City Hall of Bydgoszcz
Partnership:
The Embassy of the Republic of Poland in Washington DC
The Consulate General of the Republic of Poland in NY
Polish Cultural Institute, NY
Jesuits Chicago, IL
SS. Cyril & Methodius Parish, Lemont, IL
St. Hyacinth Basilica, Chicago, IL
The Holy Trinity Catholic Church (Trojcowo), Chicago, IL
Five Holy Martyrs Catholic Church, Chicago, IL
Polish & Slavic Center, NY
Church of the Epiphany RC, NY
St. Ignatius Loyola Parish, NY
The Polish Singers Alliance of America (PSAA)
Patronat medialny:
Polish Daily News (US)
Polish Television TVP3 Bydgoszcz (PL)
Polish Radio Pomerania and Kujawy (PL)
Wyborcza Bydgoszcz Newspaper (PL)