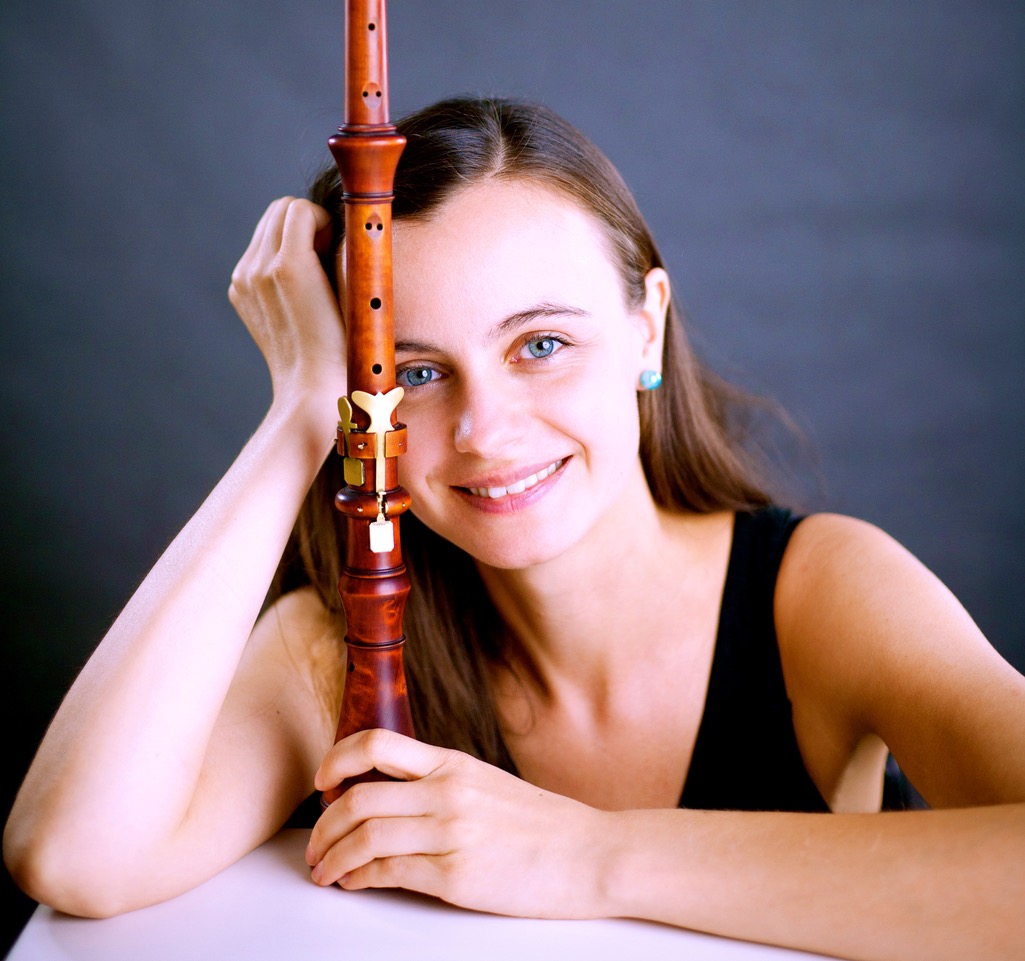 She started to play the oboe under prof. Tomasz Gubański and at age 16 was accepted to the University of Music in Freiburg into the class of  Professor Heinz Holliger. After his retirement, she  continued her studies and graduated from the University of Music in Luebeck under Professor Diethelm Jonas and from the the Conservatory of Music in Geneva under Prof. Maurice Bourgue ("Diplome de Soliste"). Parallelly she studied historical oboes at the Conservatory of Music in Verona under Professor Paolo Grazzi and under Alfredo Bernardini at the Mozarteum in Salzburg, graduating with a "suma cum laude" distinction.
Since 2008 she dedicated herself to historical music performance, collaborating regularly with many european ensembles such as Il Giardino Armonico, Ensemble Matheus, Il Pomo d'Oro, Accademia Bizantina, Zefiro, Capella Cracoviensis,  Akademie für Alte Musik Berlin, Il Complesso Barocco, I Barocchisti, Concerto Copenhagen, Arte dei Suonatori, Orchestre des Champs Elysees, Capella Real de Catalunya under Jordi Savall, Concerto Koeln, Gli Angeli de Geneve, as well as with Spira Mirabilis, Ensemble Resonanz and Camerata Geneva.
Her performances as a soloist include concerts with the Polish Radio Chamber Orchestra, Philharmonic Orchestra in Poznan, Verona Philharmonic Orchestra, as well as on historical oboes, with the Chamber Orchestra "Il Tempo" under Simon Standage at the Royal Palace in Warsaw, with Ensemble Matheus at the Chateau Royal in Versailles, with La Folia Baroque Orchestra and in solo arias with singers such as Cecilia Bartoli, Philippe Jaroussky, Franco Fagioli, Joyce Didonato and Sandrine Piau.
She was a former teacher at the Early Music Masterclasses in Bourg-en-Bresse (France) in 2007/2008 organized by the Early Music Festival in Ambronay, as well as at the International Early Music Masterclasses at the Chopin Music University in Warsaw in 2011 and 2012. She was also invited as a guest jury memeber for final master's degree exams in baroque oboe at the Royal Conservatory in Copenhagen.
2005 she obtained a scholarship for the Modern Music Academy in Lucern directed by Pierre Boulez, organized by the International Music Festival in Lucerne. She collaborated regularly with the Opera Orchestra in Zurich from 2006 until 2010, with whom she performed under directors like Adam Fischer, Franz Welser-Moest, Marc Minkovski, Michael Gielen and Nello Santi.
Magdalena is a laureate of international competitions on modern oboe in Lvov/Ukraine (2000, 1st prize), the 34th International Music Competition in Bern (2000, special prize from the jury), the 7th International Music and Art competition in Takasaki/Japan (2001, 1st prize), at the Juetting-Czerny Music Prize Competition (2003, winner) and, on the baroque oboe,  at the Early Music Competition "Premio Nazionale delle Arti" in the soloist category (Vicenza, 2008, 2nd place and the special prize). She also received art prizes from the City of Poznan (2003) and from the Polish Minister of Art and Culture ( 2004).
She made CD and DVD recordings for Decca, Emi Virgin Classics, Naiv, Sony and Outhere Music and has given concerts in Poland, Germany, France, Austria, Holland,  Ukraine, Switzerland, Italy, Finland, Sweden, England,  Japan, Israel  and the USA and played in in many prestigious concert halls like the Conertgebouw in Amsterdam, Barbican in London, Konzerthaus in Vienna, Theatre des Champs Elysees in Paris and the Chateau de Versailles among others. Her recordings were aired by the German radio and television, as well as by  Polish, Czech, Swiss, English, Hungarian, Swedish and Japanese radio stations.
Her recent recording on historical oboes include Vivaldi's oboe concerto for Sony Harmonia Mundi with the german baroque orchestra La Folia, Mozart's Arias and Ouvertures with the Millenium Orchestra for Outhere Music, as well as Brandenburg Concertos with Ensemble Zefiro.
In 2018 and 2019 she performed at the Festspiele in Salzburg among others, as well as attended concert tours with Capella Real de Catalunya under Jordi Savall.