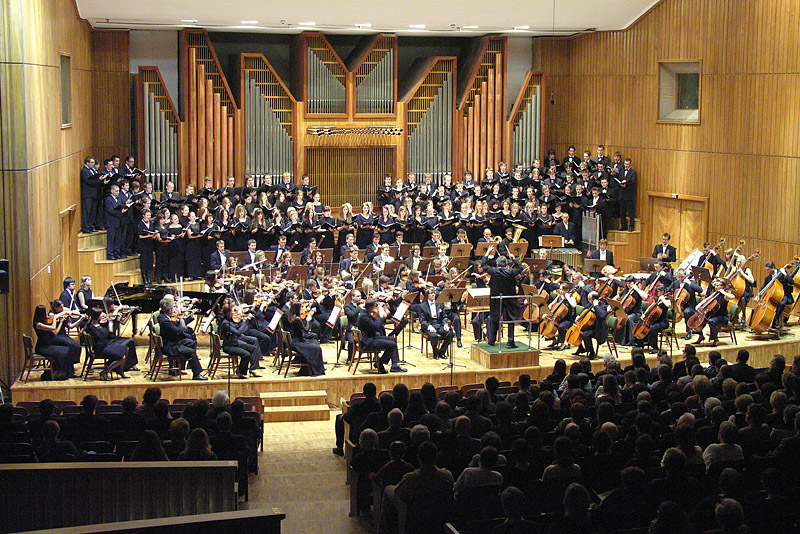 From the very beginning, the Feliks Nowowiejski Academy of Music in Bydgoszcz has been involved in a wide range of artistic events such as concerts and opera performances, and has organized and taken part in the organization of competitions and music festivals, both in Poland and abroad.
Among those organized regularly, the Bydgoskie Wtorki Muzyczne [Bydgoszcz Musical Tuesdays] have enjoyed the longest tradition of being organised since 1981, that is from the time when the Academy began its mission as an independent school and was named the State Higher School of Music. Those concerts were preceded by the Czwartki Muzyczne [Musical Thursdays]. Other events regularly held in the artistic calendar of the Academy are the Organ Concerts, organised on Thursdays, the first one taking place on 5th October, 1992, when the new organ was completed and installed in the Concert Hall at 3 Staszica St., the Lubostroń Palace Concerts, initiated in November 2000 and organized together with the palace management, Wielkie Cykle [Great Cycles], since January 2004, and the Poranki Muzyczne [Musical Mornings] for children and their parents, performed by the Academy teachers and students from the Faculty of Conducting, Jazz and Music Education.
Since 2005, every year the Academy teachers and students have taken part in the Science and Art Festival in Toruń, giving concerts and various stage preformances, presenting lectures and performing for children. In 2007 the Academy took the initiative to organize the Music in Bydgoszcz Historic Monuments summer series of concerts, held every year, thus widening the range of concerts on offer. In 2008, the teachers and students of the Academy started their collaboration with Opera Nova, by organizing the annual Youth Opera Forum, which is part of the Bydgoszcz Opera Festival. As a result of cooperating with the Pomeranian Philharmonic Hall, it has been decided that the tradition of Graduation Concerts featuring outstanding students of the Academy as soloists accompanied by the Symphonic Orchestra of the Pomeranian Philharmonic Hall should be reinstated.
In the previous years, to widen its scope of artistic activities, the Academy organized other concerts, such as the Jewels of Classical Music concert series, held between 2003 and 2011 together with the Municipal Cultural Centre in Bydgoszcz, the Music of Fields and Orchards, monthly concerts held between 2005-2008 in collaboration with the Local Community Cultural Initiative in Wtelno, and the Szafarnia Piano Competition (in the artistic season of 2011/2012 organised together with the Chopin Centre in Szafarnia.